Let's Go Shopping!
Posted 07/25/16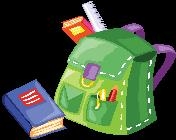 If you have been waiting for Ohio's 2016 Sales Tax Holiday to buy school supplies, it starts on Friday, August 5, at 12:00 a.m. and ends on Sunday, August 7, at 11:59 p.m. Click the links below for the sales tax holiday FAQ to learn what items qualify and to download a copy of your child's school supply list(s).
Pre-Kindergarten School Supply List
Elementary & Middle School Supply List
High School Supply List
DCS is hosting a new uniform sale on Saturday, August 13. Educational Apparel will be in the Commons from 10:00 a.m. to 2:00 p.m.
More than a Thread
will have an Open House on Saturday, August 13, from 10:00 a.m. to 2:00 p.m. These items can only be worn during school hours on select Spirit Wear Day dates.