DCS Alum uses soccer to reach others
Posted 12/05/13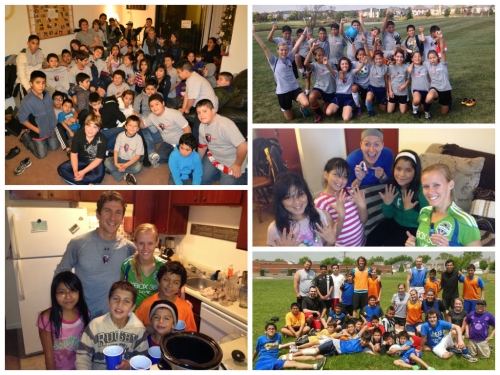 Where does a DCS grad, armed with a passion for soccer, a heart for children, a fluency in Spanish, a love for God, and a wife raised in Indonesia go to advance the redemptive work of God? If your guess is West Chicago, you think like Cody Snouffer. Cody, class of 2007, and his wife Jen have not just targeted the children and youth in the projects as their field of ministry, it has become their life. They live in a high rise, and at-risk, apartment complex with approximately 2500 others. About 6-8 individuals occupy the two-bedroom apartments, many of them children. Ethnically, about 85% of the population is Spanish-speaking. Cody and Jen, who belong to the Chicago Eagles office within Missionary Athletes International (See www.chicagoeagles.com), team up with Community Fellowship Church to provide community development opportunities through soccer teams within the urban environment just west of downtown Chicago. MAI reaches children and youth through soccer camps, team tours, and urban ministries. Cody still takes 2-3 international tours per year, using his soccer skills as a tool to present the Gospel and train coaches in Sports Ministry.
In the Urban setting Cody and Jen use tutoring, soccer, and generally being available 24/7 as a neighbor to influence hundreds of children. Soccer becomes far more than a way to occupy idle children. It becomes a means of reaching a discipleable-sized group on a more manageable level. Fifty+ third through eighth graders tends to dilute effectiveness, and make relational ministry difficult. But, a team of 12-15 players with a coach well trained in Sports Ministry quickly creates a culture that supports the truths of the gospel.
Cody attended Mount Vernon Nazarene University where he was a standout soccer player, leading the Cougars to two National Christian College Athletic Association championship appearances and one National Association of Intercollegiate Athletics (NAIA) Final Four in his career. He graduated in 2011 and gained valuable experience by playing soccer with the Chicago Eagles and traveling to Spain, Brazil, Honduras, and a few other Central American countries. His training included a six month internship with the Charlotte office of MAI, where his interest in urban sports ministry was piqued. While on team tour with the Chicago Eagles, he met Jen, a missionary kid who shared his drive to be used of God in this ministry. They were married September of 2012, moved into the neighborhood, and became full-time staff with MAI. Jen is the head women's coach in the neighborhood, and leads womens ministry and discipleship on and off the field.