Third Grade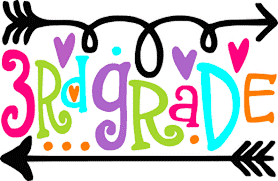 Class Verse: "if my people who are called by my name humble themselves, and pray and seek my face and turn from their wicked ways, then I will hear from heaven and will forgive their sin and heal their land." 2 Chronicles 7:14 (ESV)
Class Motto: Be Responsible-Own it!
Academic Focus: Organization, responsibility, and respect are key in your child's development in 3rd grade.
Bible: Character development, Bible memorization, weekly tests, and study the life of Abraham, Jacob, Joseph, and Daniel.
Math: Addition and subtraction facts, place value, 4-digit subtraction facts and checking, multiplication and division facts, telling time, graphs, fractions, two-digit division, multiplying 2-digit problems, story word problems, Geometry and measurement.
Lanaguage Arts: Phonics, Spelling, fluent reading, and Comprehension and 5 paragraph report writing.
Science: Classification of animals, plants, sounds, living things and non-living things and space.
History: Framing of the Constitution up until the days of the Wild West and beyond - begins with Columbus, Washington, Lincoln, Lewis and Clark. Geography: Map Skills - learning all regions on the map, states, and capitals
Extra-Curricular
Special Activities– Historical Biography Day dressed as favorite character; Super Bowl competition; hot chocolate day; March madness; STOP, DROP, READ Day!